News
ForenSys® is constantly evolving and our employees are always in search of excellence.

You will find on this page major improvements or new partnerships in order to enhance the customer experience.
17.12.2022
Business Partner Award 2022 - EyeTeK Ltd
This award recognizes particularly successful and long-standing peoplefone business partners. The significant influx of new customers throughout 2022 is worth highlighting.

It is with pleasure that we awarded the prize to Fabrice Clément (in the center) of EyeTeK Ltd.
03.11.2022
Kick-off meeting EyeTeK - "No barriers"
On Wednesday, our first meeting took place with all the actors of our project concerning the "automated treatment of accounting documents by AI (artificial intelligence)" in order to expand our ForenSys® web application.

We are at the beginning of a close cooperation with the Engineers' and Architecture's High Degree School of Fribourg (HEIA-FR) represented by Dr. Jean Hennebert and the Management High Degree School of Fribourg (HEG-FR), represented by Dr. Maurizio Caon and the doctoral student Alessandro Silacci who showed us, from the very beginning, a genuine enthusiasm to realize this project together.

We should also note that among the members of the team we are fortunate to benefit from the talents of Mr. Thomas Phung, rewarded in 2021 thanks to his Bachelor's work on artificial intelligence.

As a reminder, EyeTeK Ltd won funding at the beginning of this year following the event "No barriers" on April 6, 2022, jointly organized by the CCIF - Chamber of Commerce and Industry of the Canton of Fribourg and the HES-SO//FR.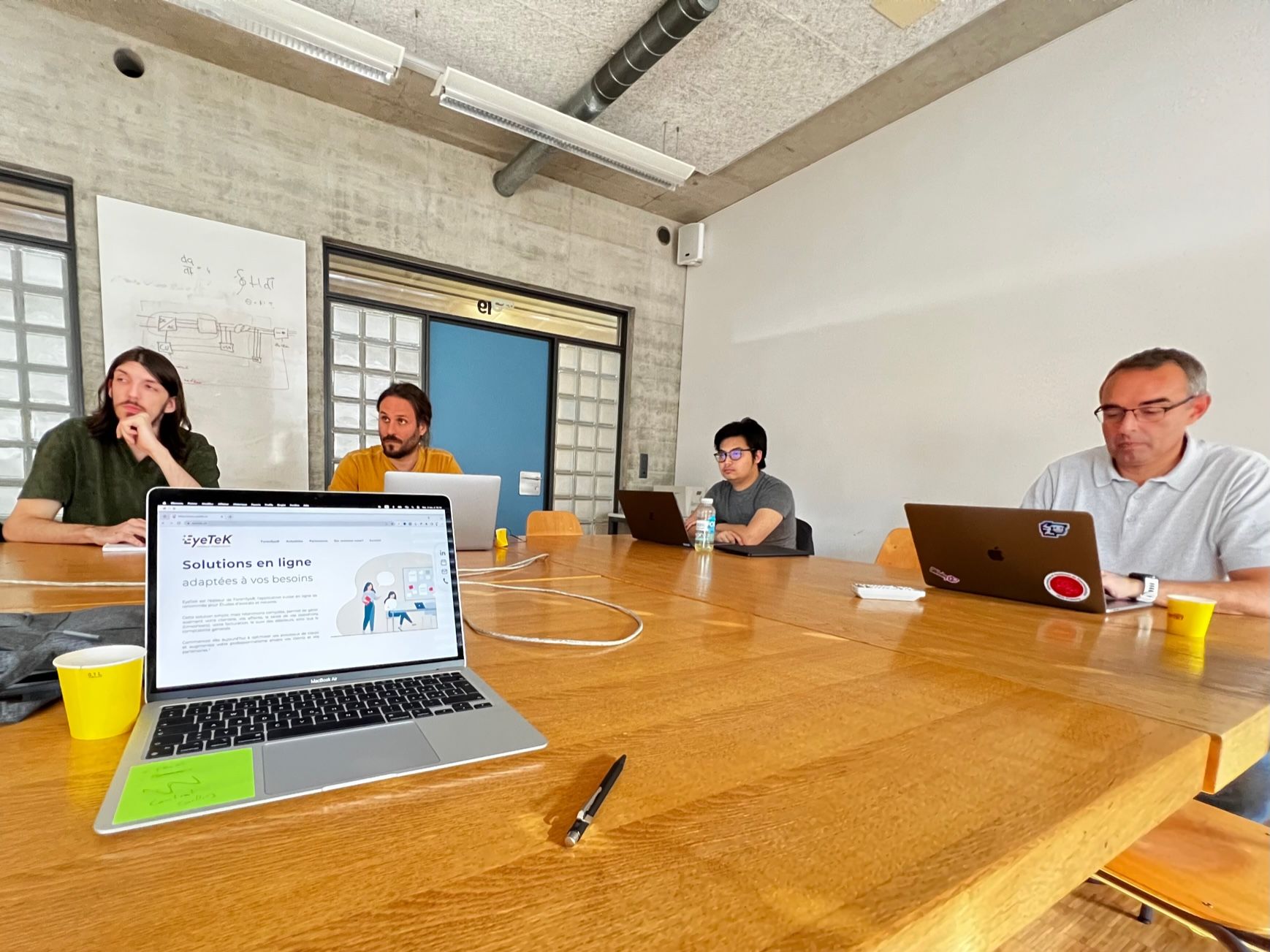 01.03.2022
Partnership with peoplefone: your call list integrated to ForenSys®
We signed a new partnership with the company peoplefone, VoIP solutions provider (phone over Internet).

peoplefone, originated from canton Valais and based in Puidoux for French-speaking Switzerland, was voted the best Swiss telephone company during these last 3 years. From March 2022, our ForenSys® application is equipped with a connector to trace all incoming and outgoing calls, by displaying the client's name if this one is listed in the application. This has the advantage of not forgetting any conversation and directly send a "timesheet" in the corresponding case, with the correct call's duration. It is also possible to call clients directly from ForenSys® in one click. Last but not least, from the mobile phone, the peoplefone application allows you to call clients by displaying the office number and not the mobile phone number.
04.02.2022
Court guidelines in canton Vaud
ForenSys® is now compatible with the new court guidelines of canton Vaud.
01.10.2021
Partnership with Philips, your dictations directly incorporated into ForenSys®
As announced in 2020, we are pleased to inform you that our partnership with Philips is now active. ForenSys® is ready to accommodate all your dictations via an additional module that we activate on request. Your audio files are now directly linked to your ForenSys® cases and can thus be found, modified and listened to easily. As an official Philips dealer, we can offer you compatible devices at better rates.