A solid experience
More than 23 years at your service
An eye on technology
It was in the year 2000 that EyeTeK opened its "eye on technology" and turned towards the development of computer applications and created its first management and invoicing software dedicated to law firms and notaries.
Easy of use
In the dynamic of the computer boom of the beginning of this century, "ForenSys®" made its appearance in various law firms of canton Fribourg in its version 1.0. Quickly, its ease of use, its playful ergonomics and its extremely competitive price contributed to its growing notoriety which extended beyond the borders of the canton, even those of Switzerland, and this, through the best of publicity: from mouth to ear.
Jump on the bandwagon
With the arrival of the smartphone in the hands of the general public and the beginnin of the mobility, the managers of EyeTeK decided to establish an ambitious roadmap in order to develop their flagship software to an online and mobile version..
ForenSys® Online
Thus, in 2015, the "ForenSys® Online" project was born, consisting in completely recoding the "ForenSys®" software to switch it to an online application, available from any computer and from anywhere in the world. After a titanic work of more than two years, the "ForenSys® Online" application is finally available to the public in January 2017. The reception given to this application confirms the merits of this new strategic direction taken by EyeTeK. The rapid and automatic availability of new functionalities and updates is an undeniable asset for the ease of use of our customers.
Opening up to new markets
Thanks to its cross-platform compatibility, "ForenSys®" opens up to the market of Macintosh users, until now excluded. In addition, "ForenSys® Online" considerably reduces the operating costs of its users, since no IT infrastructure is required (no dedicated server, no VPN, no software to install or update). The "ForenSys® Online" application is hosted on Swiss servers whose security standard is identical to that of the Swiss banks.
Swiss made
Today the management of EyeTeK is proud of the evolution and notoriety of its entirely Swiss made "ForenSys®" application to which more than 3,000 users connect daily to manage in particular their: address book – cases – timesheets and expenses – invoicing and collections via QR codes – accounting – human resources – telephone calls – audio messages.
Our employees to your service
Profiles from various backgrounds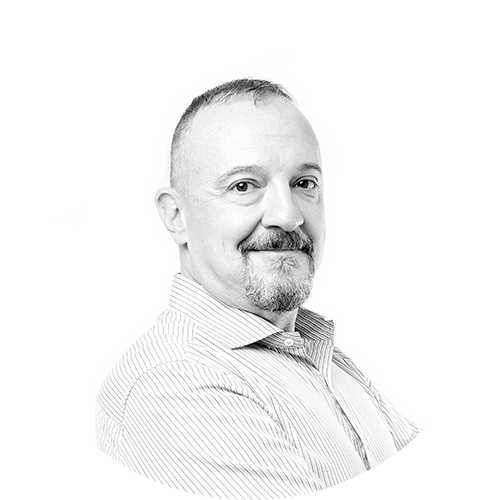 Grégoire Galley
Support & backoffice manager
Founder of the company EyeTeK Ltd in 2000 in a digital world in turmoil, I sharpened my weapons of software developers as an external consultant with various large companies such as Telecom PTT (which has since become Swisscom in 1997), Swissair (the ancestor from Swiss International Airlines) or SBB Cargo.
The attraction for a closer and more human contact with my customers, pushed me to develop software for smaller markets, commonly called "niche markets". Thus was born, among other things, "ForenSys®" in its version 1.0, in order to fill a gap in a market that was already well saturated, but whose competing products were either too expensive or doomed to disappear in view of their obsolescence.
With the extremely rapid evolution of technologies, came the time to give way to young generations full of passion and innovative ideas to take over in this exciting project that is "ForenSys®". Thus, my role today is to provide all the necessary support to our loyal customers and to work behind the scenes by supervising our entire back office.
Mario Mineo
Development and programming manager
HES-SO engineer in computer science, versatile, I was first an SAP consultant where I developed the world's first on-demand SAP solution in the cloud. I then created my independent consultant company where I was able to work on various projects, from pharmaceuticals to electrical energy management, video surveillance and cloud management software for various cantonal departments.
It was in 2015 that the great "ForenSys® Online" adventure began, where I led the complete overhaul of "ForenSys®", the first of its name, to make it the flagship product it is today. Far from the image of the computer programmer alone in his garage, I appreciate the closeness with our customers and the constructive dialogue, allowing us to find the most adapted and ergonomic solutions to their needs.